Focus on future mobility
OMV provides various solutions suited to different types of transportation, including successfully reducing CO2 emissions for short-distance passenger transportation as well as for long-haul heavy-duty transportation. Whereas battery-powered electric vehicles present a suitable option in the first case, natural gas and hydrogen would present a more efficient option for the latter. Directly and through its partnerships, OMV offers a number of options for lower-carbon transportation, electricity, compressed natural gas (CNG), liquefied natural gas (LNG), and hydrogen. In 2019, OMV invested EUR 1 mn (2018: EUR 1 mn) in future mobility assets.
14 hydrogen filling stations in Europe, thereof five in Austria
In 2018, OMV and IONITY opened Austria's first four 350 kW charging stations. The aim is to build a network of 350 kW ultra-fast charging stations throughout Europe. In 2019, nine new stations were equipped with high-power charging infrastructure from our regional partners.
69 CNG filling stations in Europe, thereof 54 in Austria
First LNG filling station planned for 2020
Electromobility
Currently, 201 e-charging points are available at 58 OMV filling stations in Austria, Germany, Hungary, Romania, and Slovenia. Around 300 charging points at 150 additional locations are planned to be rolled out in 2020. We continue to develop our charging network via numerous partnerships and joint ventures. Through our 40% interest in SMATRICS, Austria's leading e-mobility infrastructure provider, OMV is part of a SMATRICS-operated network of more than 435 e-charging points, powered 100% by renewable energy. By way of our strategic partnership with IONITY – a joint venture of car manufacturers – we support the construction of a network of 350 kW ultra-fast charging stations throughout Europe, with 13 already opened in Austria. In 2019, we started rolling out 150 kW electric vehicle charging at OMV filling stations in southern Germany in cooperation with EnBW Energie Baden-Württemberg AG, one of the leading energy providers in Germany. OMV intends to take its commitment to electric vehicles to the next level by continuing to develop its e-mobility offerings. International roaming will be activated on the OMV ROUTEX e-mobility card, and customer-focused development of additional products will continue.
Compressed Natural Gas (CNG)
OMV is promoting CNG and LNG products on the supply and on the demand side at the same time. This approach establishes suitable infrastructure on the supply side as well as customer readiness to receive the product. Such an approach is the precondition for the successful implementation of new energy solutions, leading to the development of related products and the reduction of production costs.
In 2019, our CNG sales volumes grew by 4.6%, to 1,954 t (2018: 1,868 t).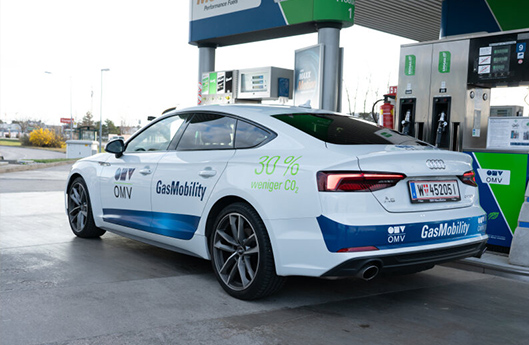 OMV will invest up to EUR 10 mn in the CNG network, with plans to upgrade the existing dispensers and expand the network in accordance with customer needs. This investment will extend the current OMV network of 54 CNG filling stations in Austria. We are also in the process of changing our fleet of company cars to CNG vehicles.
In 2019, Rainer Seele and Hans Peter Schützinger, CEO of Porsche Holding Salzburg, announced a joint effort to put more CNG on the road. Together, OMV and Porsche Holding are offering a special deal for those considering a CNG vehicle: Every buyer of a CNG-powered model of one of Volkswagen's brands (VW, Audi, SEAT, or ŠKODA) can fill up with CNG for free at OMV filling stations for the entire first year.
Valid for annual mileage of 15,000 km; offer valid until revocation We believe that this initiative will increase popularity of CNG-fueled vehicles, and thus promote the transition to lower-carbon fuels.
Liquefied Natural Gas (LNG)
According to the analysis by the Natural & bio Gas Vehicle Association (NGVA Europe) and the European Biogas Association (EBA), which published the Roadmap to 2030, LNG trucks are expected to increase to 280,000 in Europe by 2030. The growing popularity of this fuel is attributable to the benefits of lower CO2 and particulate matter emissions as well as less noise. We are preparing to expand the requisite infrastructure and supply of LNG in order to meet future expected demand.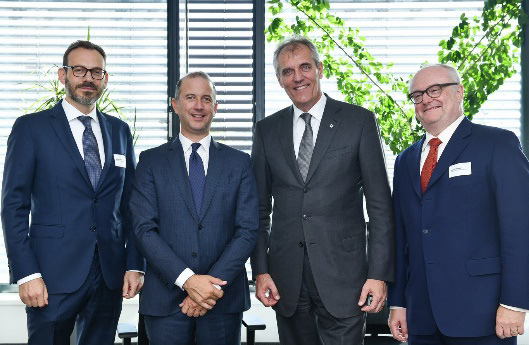 In 2019, OMV signed a memorandum of understanding (MoU) with Snam and TAG on collaboration in the field of sustainable LNG mobility. The MoU lays out the intention to jointly explore potential opportunities in the field of sustainable LNG mobility in Austria, such as the construction of a small-scale LNG liquefaction plant, the framework for a later LNG supply agreement, and the development of an LNG market.
In Turkey, OMV already holds a significant share in the small-scale LNG business, supplying around 400 customers.
Hydrogen
With five hydrogen fuel stations in Austria, OMV is the first company to offer nationwide coverage. We also have nine hydrogen fuel stations in Germany. We are a shareholder in H2 MOBILITY Deutschland GmbH & Co. KG, which intends to build a filling station network enabling travel with hydrogen-fueled vehicles throughout Germany by 2023. In 2020, there will be 100 stations operating. OMV will continue to conduct pilot projects with industry partners in order to develop a business model for the cross-sector use of hydrogen gas (H2). The aim is to establish hydrogen as a pathway for carbon-neutral mobility, in particular in the freight and public sectors. We will also advocate for the use of H2 for balancing the electricity grid in view of the increasing strain from intermittent renewable electricity sources. Currently, OMV is engaged in several pilot projects, including the UpHy project, which involves the production of hydrogen for use in the mobility sector and in the refining process.
1 Valid for annual mileage of 15,000 km; offer valid until revocation